Telehealth tutorial: How to perform a video conference
July 30, 2015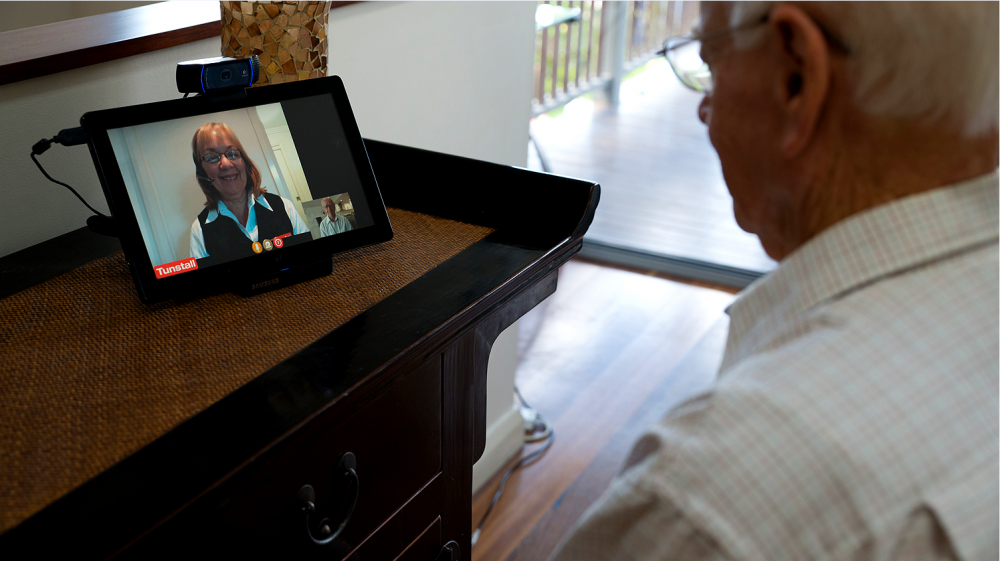 Tunstall Healthcare's myclinic@home telehealth hub enables doctors and registered nurses (RN) to check-in on their patient's progress without the need to arrange transport or a home visit.
A Tunstall telehealth solution is supported by the very best in project management and clinical engagement, ensuring a connected health solution which is carefully integrated as a clinical support to a patient's existing care plan.
With the functionality provided by a computer tablet and Tunstall high definition (HD) video conferencing software, clients no longer have to deal with the hassle of arranging transport to see their doctor, or having to wait until their next scheduled home visit for their medical practitioner to check up on their health.
The Tunstall myclinic@home allows the user to monitor their vital signs and symptoms from their own home, comforted by the knowledge that should their readings go beyond set limits their care team will be informed.
In addition to the capability for clients to monitor their own vital signs, Tunstall's myclinic@home hub incorporates a HD video conferencing module, providing a visual and audio link which allows the patient to interact with their care team via a remote consultation. The video conferencing module is simple and easy to use, giving the patient full control over the scheduling and privacy of their appointment.
This film will guide you through the process of performing a video conference with the myclinic@home device.
Clients can approve a time for their video call that suits them – should they not be available, their doctor or RN will get in touch to reschedule the conference call. In addition, during the call, clients are able to mute their audio or video input for privacy should the need arise.
You can find out more about Tunstall's telehealth solutions here, or get in touch with our friendly team to find out what we can do for you.